When we moved to Santa Fe in May, 2017 our original plan (with our daughter-in-law M and son B's approval and encouragement) was to look for a home in the one-half square mile, 500+ residence Casa Solana neighborhood where they live – just not next door, across the street, or up against their backyard. Prices in our ballpark, good square footage, one story, architecturally appealing – and at least one really nice set of neighbors. And most of them are "Stamm houses."
First, as always, some background is necessary.
When New Mexico attained statehood in 1912, Santa Fe (pop. 5,000) – the seat of government since Spanish Colonial Governor Pedro de Peralta designated it as such in 1609 – was named its capital city. It had held this position through the Mexican (1810-46) and United States (1846-1912) Territorial periods. So, why not now also. Even with all this past history however Santa Fe was basically a trading center for farmers and Native Americans. And its civic leaders felt the need to make it into something more worthy of its new national status. Their goal was for this "Royal Town of the Holy Faith of Saint Francis of Assisi" (the city's full name as founded) to become a unique, exotic, southwestern tourist destination.
By chance statehood also coincided with the start of the "Urban Planning" movement (a reaction to the perceived disorder caused by the industrialization of cities) and the "City Beautiful" movement (which believed that aesthetically designed municipalities would promote a harmonious social order, improve quality of life, and create a more moral citizenry.) "All of a sudden here's a pressure to comprehensively plan. You can't just put a privy wherever you want," according to Elliott Sclar, Professor of Urban Planning at Columbia University.
But Santa Fe could not afford an outside professional planner. So Mayor Arthur Seligman tapped businessman Harry H. Dorman plus archeologists Edgar Lee Hewett and Sylvanus Morley of the Museum of New Mexico to develop its blueprint.
And, while municipalities such as Chicago, Memphis and Coral Gables chose the Neoclassical Beaux Arts style as their guide to "architectural homogeneity," Santa Fe selected a model based upon its own pre-1850 past – opting to be the "City Different" in the "City Beautiful" movement.

After studying the architectural photographs of museum colleague Jesse Nussbaum,*** Morley prescribed a flat-roofed, one-story, adobe building with a room on each side of a portal as the citywide standard – with no building permits issued "until proper assurance is given that the architecture will conform externally with THE Santa Fe Style," (version 1.0.)

Like most Spanish towns Santa Fe was organized around a central plaza made up of a church, and the residences of civil and religious officials plus other important town residents. Streets radiate outwards from the square at right angles in a pattern that would be extended as the settlement grew. A 1930 redesign added Spanish-style portals and redid all the building facades in either the designated Spanish-Pueblo or (newly allowed v 1.1) Territorial Revival style (adobe with Greek-style trimmings.)
By 1940 the population was 20,325 – a fourfold increase from 1912 – due mainly to more state government jobs. The housing for this increased population however still clustered around the center of town. "As late as the mid-1940s, urban areas were confined to an oval area measuring a mile by three-quarters of a mile. The farthest residence was a ten-minute walk from the Plaza."
We lived in two parts of this "oval area" (aka SFS v 2.0) from May through August, 2017 while house-hunting.
Initially we stayed in a 750 sq.ft. Airbnb rental in a compound of other small casitas in the South Capital area. "A rich and appealing collection of single family homes, condos, and small compounds [that] charms with its architectural diversity. Craftsman bungalows intermingle with Pueblo Revivals, Victorians and Territorials. Construction materials run the Santa Fe gamut: adobe, brick, Pen-tile (hollow bricks formerly made at the State Penitentiary) and framed stucco. Mature trees abound thanks, in part, to the WPA. Yards range in size from postage stamp patios [where we were] to 1 acre spreads." (Santa Fe Real Estate Consultant)
Then, because our house search took longer than anticipated, and the rental had been previously booked for most of August, we were moved to the "Historic Eastside" with "adobe homes...that have survived since before 1912. In the 1920s, an influx of artists and writers adopted the area and remodeled some of the two-room adobe structures in the Pueblo Revival fashion. The 19th century brought a unique type of architecture...to the Historic Eastside. Homes were nestled behind elaborate stone and adobe walls in compounds for extended families to live together." (santafeexclusives.com)
We stayed on Apodaca Hill – once part of a barrio known as "Dogpatch" ("grittier than other parts of the east side") – now gentrified by people from out of state, (for many their second homes.) "Those buying and selling set the market...Many Hispanic families were displaced as a result."
But an eighty-acre parcel of land, two and one-half miles west of the city center was the site of a housing complex not of any Santa Fe Style.
From the mid 1930s to 1942 the property was the camp for the Civilian Conservation Corps Company 833 – which worked on projects in Bandelier National Park and constructed the Old Santa Fe Trail Building – "The Single Most Recognizable CCC Contribution to the National Park Service" (New Mexico: A History.)
Then at the start of World War II the compound was converted to an internment camp for men, where up to 2,100 Japanese at a time were imprisoned. In addition to those whose only offense was their ethnicity, there were also 866 "renunciants" (who explicitly gave up their U.S. citizenship), 313 "troublemakers" from other internment camps and a few German and Italian nationals. Over five years more than 4,500 detainees passed through the facility.
These complexes were basically the only housing units outside the central town neighborhood. However "low density suburban style developments were built in the city following World War II at increasing distances from the Downtown."
And many of them were the work of UNM graduate and WWII U.S. Navy Veteran Allen Stamm, who put up almost 2,800 homes in the area between 1939 and 1980. Early models were single-story, frame/stucco Pueblo style with two bedrooms, one bath, living room, kitchen, hardwood floors, vigas, kiva fireplaces, nichos and other traditional Santa Fe touches plus one-car garages and walled back yards – with open front yards because Stamm wanted residents to know their neighbors. Santa Fe Style v 3.0 was what the city needed for its lifeblood. Priced from $3,800 to $4,500 ($70,000 - $83,000 in today's dollars), with a $300 down payment and $40 monthly mortgage – they were within the price range of most ordinary Santa Feans.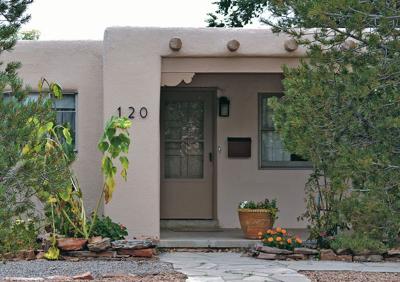 Stamm created several of the capital city's most distinctive neighborhoods – among them (our original target area) Casa Solana, built partially on the former site of the CCC/Internment Camp.
Over the years garages were converted to rooms and in some cases second stories were added. "He wanted people to be happy in his houses. All he would ask is that the quality of the work be up to his standards," commented Santa Fe Building Contractor Ed Crockett.
Racial Covenants were standard in housing deeds from the 1920s through the 1960s – "no person of African or Oriental race shall use or occupy any building lot" ­– and actually a requirement for Federal funding. Interestingly "whites only" provisions were not applied against Hispanics in Santa Fe. Two Stamm developments had them. Still, in the early 1960s when an African-American woman was house-hunting business partner Lee Brown recalls Stamm saying, "show them whatever they want."
Allen Stamm was named a Santa Fe "Living Treasure" in 2003 for his contribution to the city's development but also for his employment and business practices. "He hired women consultants to design the kitchens..instituted year-round work for his employees as well as an insurance plan, partnerships for his top executives, and a one-year unconditional guarantee on his houses." He died in 2003 at the age of 91. "For a residence in Santa Fe, there is no higher tribute than to say it is a 'Stamm House'...like the homes he built, his legacy will stand the test of time."
Unfortunately all of the several Stamm houses that we could see ourselves living in were too much of a project to make them "move in ready."
So, no Casa Solana. South Capital (our Airbnb rental Zillow estimate = $387,026) – and Historic Eastside (if its "$300,000 in the rest of the city...in the barrio of yore costs upwards of one million dollars") – were just not in our $/sq. ft. price range.
After several Sunday afternoon open houses we came upon our current home just outside the city limits in Rancho Viejo de Santa Fe – a 23,000-acre (39 square mile) parcel of land with three HOA communities and more open space than we can visualize, or ever cover on foot.
"The vision...embraces the surrounding natural landscape as the foundation for design...[synthesizing] key principals of ecological planning and sustainable design...respecting and building upon concepts from traditional New Mexico towns and plazas." (Mountain Living Magazine)
It is a part of Santa Fe that we didn't even know existed. With house models that the 1912 town planners could not have imagined. Would they have approved? In fact, would they have been okay with the Stamm houses?
"Towards the end of the 19th century [Americans explored] the southwest and became fascinated by the Native American and Hispanic cultures. City founders quickly saw the potential for tourism and harnessed the architectural beauty of Spanish/Pueblo revival to build a community to attract visitors and revenue...Pueblo-style adobe exteriors, thick hand-plastered walls...exposed natural wood vigas, and earthy hues. Santa Fe is all about celebrating and mixing in local cultures: Native American, Hispanic, Anglo." (Woods Design/Builders)
To us, Santa Fe Style v 4.0 is close enough to Morley's paradigm (at least in spirit), flexible enough to adapt to the town's needs, perceptive enough to recognize its traditions, and unique enough to still make our new home town the "City Different."
Plus prices in our ballpark, good square footage, one story, architecturally appealing – and, a really nice set of neighbors. But not next door, across the street, or up against M & B's backyard.

*** Architectural photos from the Palace of the Governors Photo Archives, Jesse Nusbaum Collection can be seen at https://econtent.unm.edu/digital/collection/nusbaum/search. Not included of course are camera images of the first Santa Fe community (v 0.0) – the adobe buildings of the abandoned Tanoan Indian Village upon whose ruins the city was built.